Featured Products
A good time to renovate your car's leather interior
Now is a great time to 'spruce up' your interior and if you have a leather interior we have just the thing.

Our leather renovation kits will restore the colour and disguise cracks/creases and any worn or scuffed areas without the leather looking painted. In the November 2015 issue of Classics Monthly Magazine there was an article featuring our renovation kits, please click here to read this independent article.

Also, in the January 2007 issue of Classic Cars for Sale magazine there was an article called 'Tan your hide and save a fortune' which featured our leather kits, please click here to read this independent article (in PDF format).

For a demonstration on YouTube using the Woolies cleaner and hide food please click on this link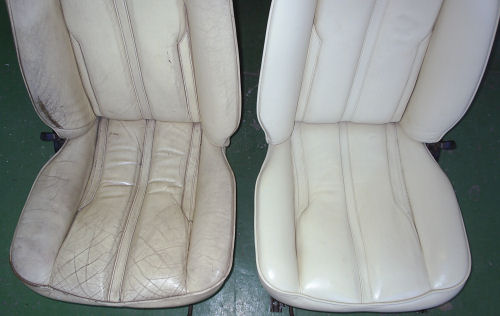 "I thought it my duty to email. You have restored my faith in mankind. Having purchased your leather renovation kit and not really expecting brilliant results, if any at all, I was dumbfounded at what I ended up with. I have two new seats for my Ferrari, they honestly look like they have been re-leathered and my friends think the same. If I was a salesman I could go to work happily knowing that what I sell does exactly what it is supposed to. I can only say "thank you".

Quote and photo from customer, March 2006.

Alternatively if your leather is in reasonable condition, and does not need re-colouring, it is still a good idea to clean and feed it regularly, this will help prevent it from drying out. Our leather cleaner will remove ingrained dirt and help open the pores of the leather so the hide food will soak in well.

We have been selling these products for over 40 years so they are well tried and tested! For more information on the cleaner, hide care and leather renovation kits please click here.

Self Adhesive Bead
Self Adhesive Ribbed Section
Sponge Extrusion
Sponge Extrusion
Sponge Extrusion
Sponge/Rubber Extrusion