Woolies has a dedicated small team lead by Directors Duncan Allen and Louise Woolstenholmes Green, who will ensure that the original company policy of good, prompt friendly service along with keen prices is maintained and built on.
Richard works in the warehouse, serving customers that visit us, packing and despatching orders and Niki is our administrative assistant and may speak to you on the telephone.
In October 2016 Woolies celebrated it's 40th Anniversary, a significant milestone which we are very proud of. Below is the Woolies team as it was when we celebrated 40 years.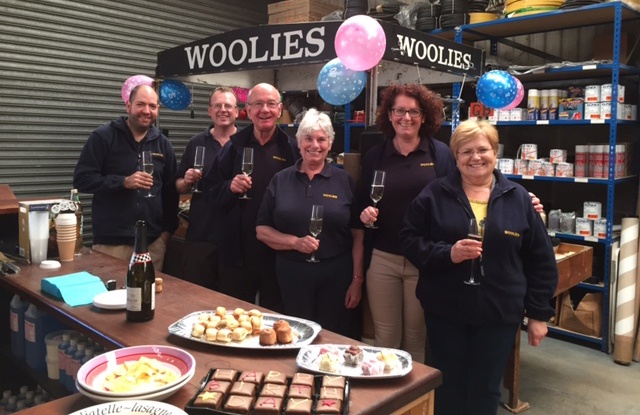 Woolies History
The company was started from scratch in October 1976 by Ian and Caroline Woolstenholmes from a double garage, with a nominal stock ultra keen prices and lots of enthusiasm !
After the first 18 months trading, Woolies rented space from Mike Pilbeam (Hill Climb championship car designers and manufacturers) in one of the old BRM workshops in Bourne, Lincs. The Company then purchased its present site in 1979, moved into purpose-built premises in 1980 and extended the building backwards and sideways towards the end of 1984.
Duncan joined Woolies in April 1990 and Louise joined in June 1998. Duncan and Louise are now Directors in the Company with Ian and Caroline having a less 'hands-on' role.
Racing background
Ian and Caroline had both been keen competitors in Vintage Sports Car Club events from the early '60's and mid '70's: circuit racing, sprints, hillclimbs and trials Click here to find out more about Ian and Caroline's competition background.