Ian and Caroline had both been keen competitors in Vintage Sports Car Club events from the early '60's to mid '70's: circuit racing, sprints, hill climbs and trials. Always in Alvis cars: Speed 25 and 4.3 specials, 1930 12/50 Tourer and 1927 12/50 Sportsmans Saloon - notching up some respectable results ! Most notable success culminating in the annual VSCC "Thoroughbred" and "Alvis" Trophies in 1974.
In the Spring of '76, the quickest Alvis, DUU 900, was sold to finance the start of WOOLIES, but the entirely original Sportsmans Saloon* (pictures shown below) was retained to accommodate the growing family. The 80's and early 90's saw ownership of road-equipped Speed 25 special, 1931 Silver Eagle tourer and 1926 12/50 Beetleback.
* this car was the test-bed for the well established WOOLIES leather renovation kit where the original, very grim, interior needed reviving without the "just painted" look.
The AUTOSPORT cover shows Ian's very first speed event: VSCC Prescott Hill Climb 1965. Captured in full colour on the start line AND on the front cover of Vol 31. No.20 dated November 12 1965. Price 2 / 6d. Best time 54.8 secs achieved.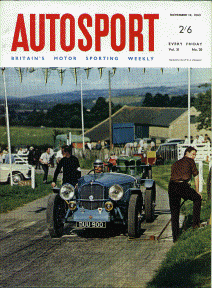 1974 - 9 years on and 6.32 secs QUICKER with a 48.48. Same venue, VSCC Prescott. In the "new" DUU 900, now with 4.3 litre engine and various "go faster" modifications of the day, and mildly tuned/ meticulously prepared mechanics - plus the "secret" ingredient **.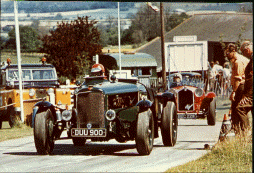 1927 Alvis 12/50 Sportsmans Saloon YU 8724 (pictured right). Purchased in 100% complete and original but "worn-out" condition in November 1974. Shown to the right in the 1975 VSCC Lakeland Trial "waiting" on Llanthwaite Green section 1 N.B. original Brexton trunk and leather travelling case well packed to aid traction.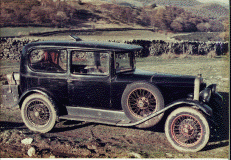 The black and white photo (pictured right) shows the same event "coming-to-rest" on Askill. This was the first trial for the saloon and it gained a 1st class award in the Standard class.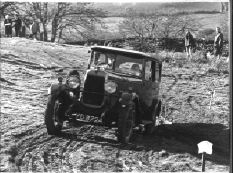 ** "Secret" ingredient of the spare lower ratio 4.1cw&p which proved absolutely ideal for the hills. This was fitted after the regular 3.8 diff. FAILED during the AMOC St John Horsfall meeting at Silverstone earlier that year (BUT not before DUU had set the fastest lap in The Jack Emmott Trophy 10 lap Handicap race).